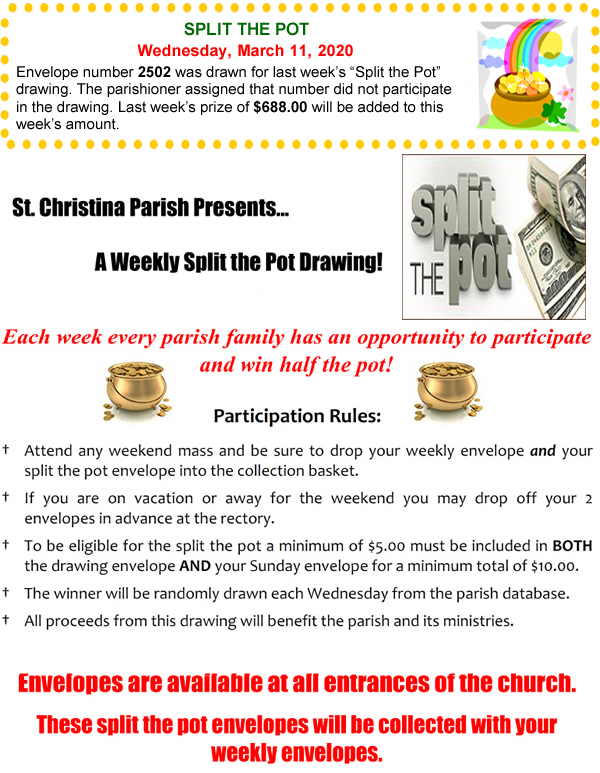 Dear Parishioners,
We offer a "Split the Pot Drawing" each week. This has been a successful fundraiser for some of our neighboring parishes. The purpose of the drawing is to raise funds while having fun by creating a little excitement each week. The Finance Committee and I know that this drawing is not for everyone, so your participation is only encouraged if you enjoy these kinds of activities. Our neighboring parishes who already offer the "Split the Pot" drawing report an increase in Sunday donations, in extra fundraising funds, and most importantly mass attendance.
In order to be eligible to win the drawing, you will need to make a minimum Sunday offertory donation of five dollars and a minimum donation of five dollars in the special Split the Pot envelope. You will only be eligible to win on the weekends we receive both a Sunday donation and a Split the Pot donation. If you are a participant of the "Parish Pay Program" and you are giving a minimum of $20.00 a month, your Sunday obligation is met, but you will still need to give a "Split the Pot" envelope with a minimum of five dollars for each weekly drawing you wish to participate in. The same is true for parishioners who make monthly donations to our parish. In addition to giving a minimum of $20.00 a month, the dates for which you are giving must be clearly identified with your donation. The special envelopes must also contain a minimum of five dollars for each eligible weekend. If you would like to participate in the drawing and are a member of Parish Pay, or give monthly donations, then please call the rectory and ask for either Joe Dillon or me for further details.
The name and envelope number of every registered family will be entered into the drawing each week, but only those parishioners who contribute a minimum of five dollars in the Sunday collection and a minimum of five dollars in the split the pot envelope will be eligible to win. Since not every parish family attends mass each week or will choose to be a part of the drawing, then there will be weeks where ineligible parish families will be chosen for the prize. On those weeks, the prize money will then simply roll over for a larger prize the following week. The amount of the prize will be determined by the amount of money collected in the special Split the Pot envelope as well as any money rolling over from the previous week(s). No money from the Sunday collection will be used as prize money. Several weeks ago, a parishioner from St. Germaine won over $2,000 in their drawing. We believe that the prize money will grow fairly rapidly. Remember, only parishioners making Sunday contributions and actively entering the raffle are eligible to win.
In order to accommodate parishioners who are out of town on a given weekend, we will be accepting Sunday donations and Split the Pot Drawing envelopes at the rectory, but they must be turned in by 9 am on the Monday morning following the Sunday of the drawing. The drawing itself will take place each Wednesday. The drawing is designed to encourage participation at Sunday mass, so dropping off envelopes in advance should be limited to those who cannot make mass and not those simply choosing not to attend.
It is my hope that this weekly drawing will be a source of fun for our parish family while raising additional funds to supplement our income. For those participating, I wish you the best of luck in winning.
Sincerely,
Fr. Tom