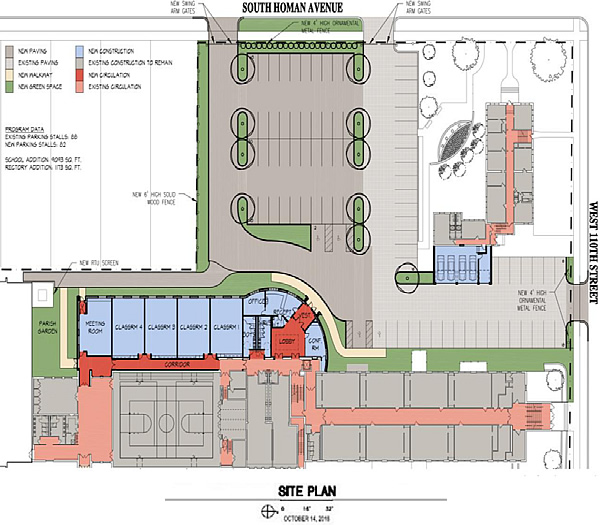 Completing the Vision
With the completion of our Parish Center in 2002, a dream was realized for St. Christina Parish. However, the Parish Center is an important part of a larger vision that we now have the opportunity to complete. This vision includes:
Construction of four new classrooms
A new, more secure and accessible entrance for our educational facilities
Reconfiguring parking
Demolition of the Homan building
New windows in the Ministry Center
Safety upgrades
A wood floor for our gym
And much more!
To Teach Who Christ Is
An important part of our campaign will be our parish's participation in To Teach Who Christ Is, the Archdiocese of Chicago's campaign for Parishes, Catholic Education and Faith Formation. We are eager to faithfully support this fundraising effort for strong schools, parishes, and lay leaders. A portion of our gifts – slightly less than 10% of our proposed fundraising goal – will be directed to this important and worthy campaign.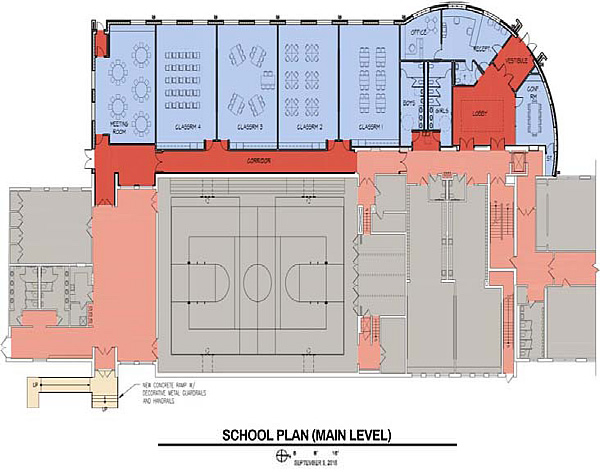 From One Generation to the Next
For so many in our community, St. Christina Parish is like a second home. This is the place where we gather to worship our Lord, educate our children, care for one another, and grow in our faith. From one generation to the next, our collective commitment to Christ and to one another has meant that St. Christina has been at the center of our parish families' faith journey.

Whenever a need has arisen, we have come together as one to meet it. We tend to one another's physical and spiritual needs, reflecting the presence of Christ in Mount Greenwood. We have been wise stewards of our collective resources by caring for our parish facilities. When called upon, we have faithfully stepped forward in support of capital needs. As one body, we built our Church, School, Parish Hall, and Gym. As recently as this past summer, we have continued in this tradition by replacing the school windows.

Over the past year, the leadership of St. Christina has carefully examined our parish needs and our ability to welcome and accommodate our parishioners of all ages. Together, we have devised a plan that includes an addition to our Parish Hall and School, a new wood floor for our gymnasium, a new parking lot and more. These changes will provide much-needed new gathering spaces and classrooms, a long desired updated gymnasium, and a safer, more efficient parking lot. In short, they will help our parish meet the needs of all parishioners and students, creating an even greater sense of home and family.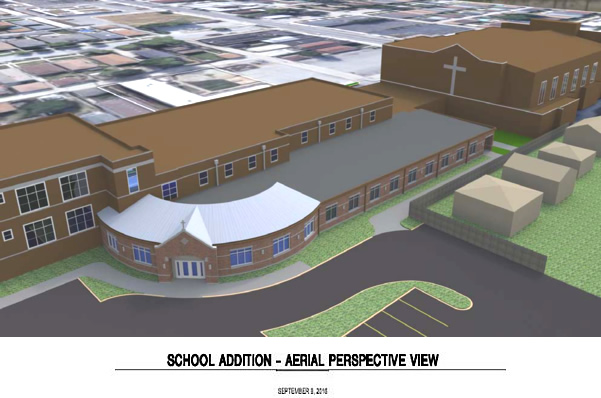 Improvements to Benefit Us All
Addition to the Parish and School

A new addition to the Parish Hall and School is among the most exciting of the proposed changes. We have worked closely with parish leadership and our architect partners to create an effective solution to current space constraints.

The new addition includes a Welcome Center that will constitute a new main entrance to the Parish Hall and School enhancing security and function. Washroom facilities and a new reception area round out the Welcome Center. Four new classrooms will be added, creating space that can be used to bring all students (School and Religious Education) together in one secure building. A fifth room will serve as a much-needed meeting space, but can be used as another classroom if needed in the future.

A Wood Floor for Our Gymnasium

The Parish Hall and School will incorporate a hallway that allows us to eliminate the "wet shoe" problem for our gymnasium, allowing us to replace the current flooring with wood. This update has long been a desire of our Athletic Association and will provide a modern and vibrant place for our parishioners to gather, play and compete.

Our Request to You

We have a unique opportunity to shape the life of our parish now and into the future. The vision we have presented here will require an estimated $4.9 million to complete. More information will be coming in early 2017.